Dare to make posts on social media
Many people are a little afraid to post on social media because they are worried about what people will think. Social media queen and influencer Nina Jansdotter and sales expert Max Söderpalm, give you their best tips on how you can think and do.
– Start writing a little more neutral things so you do not trigger so many, Nina Jansdotter begins. There are some who think it's fun to be stupid but you have to live with that. You can not sit in the stands and learn things but have to go out into the arena. That is, if it is now Facebook, you must also become active yourself. You have to start training.
– Make simple posts, Max Söderpalm fills in. Do not think so much but post a couple a week to begin with.
Giving tips on something you can, is often valuable and is usually very much appreciated. Or tell something about yourself plus you post a simple picture. You can also ask your followers something. These can be simple questions such as: "What are you up to?", "How is the weather with you?" or "Is something funny happening today?"
– Make a plan so that you sit down during the weekend and think that: "Yep, now I want to make a post on Monday, Wednesday and Friday", Max Söderpalm suggests. Be a little creative, spend half an hour on it and think of different posts. Then you do not have to come up with ideas and post directly all the time. Then it feels easy.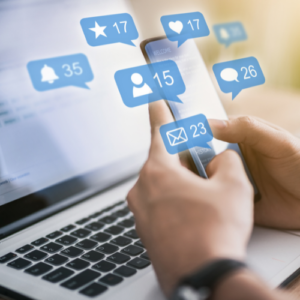 Dialogue spreads
 Facebook and other social media platforms are controlled by algorithms that determine who gets to see what. When your posts are commented, they get points in these systems. When your followers like and comment, they "vote" and thus show that they are interesting posts. Then the platforms let more people see your posts. The trick with asking questions is that then the chance increases that your followers comment. When you like and respond, even more people will see what you wrote.
  – Both Facebook and Linkedin have such a points counting system, says Nina Jansdotter. But Linkedin wants more unique material. There, it's much better to get your followers to comment on your posts, instead of encouraging them to share.
   Good dialogues that are real, are very valuable. On Linkedin there is something called "Dwell Time". Then they measure how many people stop in the flow and read and comment on your post. If many do, Linkedin thinks it's good and so the post gets more spread. The best thing that can happen is when other people comment on each other's comments.
   Shitty comments – so do you
 – Ask them to develop their critique, suggests Nina Jansdotter. "I do not really understand what you mean, can you develop?" There you take an incredibly good position and power.
   But preferably do not answer when you are affected, take a break and try to calm down a bit first. Answer in a good way that makes you gain trust. Maybe it was a misunderstanding or that you were unclear. Then you can explain what you meant, so that the critic will hopefully understand.
However, if you feel you do not have the time, energy, desire or ability to respond, it may be an option to simply clear the comments.
 – No one has anything to do with what you write on your account. Others can comment, but it is you who decides, Max Söderpalm points out.
    About selling via social media
– Sharing tips, inspiration and motivation is a good way to sell on social media, says Nina Jansdotter. When you share your knowledge, you show your skills and people want advice from competent people. The advice can be about what to do when they have a specific problem, then you build trust. You can also suggest products and services that you or a partner sells.
  Max Söderpalm adds: "Somewhere I think you should make posts that are engaging, so that people ask. Then invite to a PM discussion or even better – phone calls. "
     Marie Hagberg
Chronicle: Better dynamics when more people communicate
That is the opinion of Nina Jansdotter, Dagens PS's career coach and digital expert.
Communicating on social media has become an increasing part of many people's everyday work. Since it is labor-intensive to work in social media, it can be a good idea to have more people writing posts and helping to monitor the same channels. Then of course it is not about personal accounts but about company pages on Linkedin, likes, groups on Facebook or on company accounts linked to Instagram and the like.
There is often more dynamism with more people communicating, it can also be more creative because it is common to get stuck over time in how to write. And it does not amuse anyone – neither you nor your followers. Most important of all is that everyone involved can focus on what he / she thinks is fun and passionate about and good at, and wants to express more instead of everyone posting cloned posts. Someone might like to take pictures and is the best at it. Someone else might be good at filming and someone else might be better at writing posts, creating dialogue and spreading it. Everyone can contribute their energy and their ideas.
Social media does not sleep.
Multiple moderators are a strength. It is good that there are several of you who can steer so that dialogues do not derail in hatred and and violations. And if someone has a question, it can result in a quick response. Social media does not sleep. I have seen that pages have been attacked in the middle of the night and then it is not fun to log in in the morning and clear comments from trolls.
If there are large channels with many followers, it can be good to set an "on-call schedule", so that there is always someone who keeps an eye on what is happening. It is sad, of course, that it is more or less a must with monitoring and moderation when groups or pages grow, but there is nothing we can change.
However, it is important that everyone knows what the purpose of the page is and that you have common guidelines for which tone should apply. What do you do when you receive complaints and criticism? Set up routines for how it should be handled. Give each other different responsibilities – everyone should know what to do so that things do not fall between the seats. Find a strategy that works.
You need to see what creates good visibility.
But will it not be too scattered then if there are many voices in the same channel? Now we are all different and it's a bit what is the charm of being several, that the style of the posts differs. Several can answer the company's phone and have different ways of responding to customers. It is excellent to act in the same way on Facebook without it becoming strange. Sometimes some companies reinforce the effect that there are several who write by everyone signing the post with their name to show who is the "self" behind the post. It is not a must but it then automatically becomes more personal. The recipients / readers understand that it is a person they are communicating with and not a logo.
As I said – it is good that everyone knows what guidelines the site has and talks about what works and can be done better. Getting social media to work and become active in a good way that benefits one's business and / or one's goals is a lot of learning by doing. You have to feel for and test yourself – and learn from your mistakes. You need to see what creates good visibility and constantly screw up a little extra to get that best mix of posts, which means that followers continue to follow the page or your group with great interest.
Good luck!